ΡΑΔΙΟ ENERGY - ΝΕΕΣ ΚΥΚΛΟΦΟΡΙΕΣ (INTERNATIONAL / ΔΙΕΘΝΗΣ)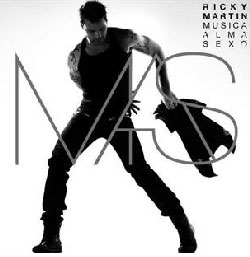 Με πωλήσεις που ξεπερνούν τα 15 εκατομμύρια αντίτυπα και αμέτρητα Grammys ο Ricky Martin επιστρέφει
το 2011 με το πολύ-αναμενόμενο νέο του album. Το album έχει τον τίτλο "Musica Alma Sexo".
Στο πρώτο single που έχει τον τίτλο "The Best Thing About Me Is You" συμμετέχει η Joss Stone. Το τραγούδι έχει ηχογραφηθεί και στα Ισπανικά με τον τίτλο "Lo Mejor De Mi Vida Eres Tu" και στο οποίο συμμετέχει η Νatalia Jimenez. Και οι 2 versions έχουν κερδίσει κοινό και κριτικούς και είναι τα πρώτα δείγματα από το επερχόμενο album του Ricky Martin το οποίο θα κυκλοφορήσει τον Φεβρουάριο.
Η αυτοβιογραφία του κυκλοφόρησε τον Νοέμβριο του 2010 και έχει λάβει εξαιρετικές κριτικές παγκοσμίως και ο ίδιος την προώθησε με μια επιτυχημένη promo tour στην Αμερική.
Ο Ricky Martin δεν είναι μόνο international καλλιτέχνης, ηθοποιός και entertainer είναι και ο ιδιοκτήτης του Ricky Martin foundation.Με την αυτογραφία του, το βιβλίο του, την παγκόσμια περιοδεία του και το promotion για το νέο του album ο Ricky Martin αναμένεται να κατακτήσει και πάλι τον κόσμο.



Artist Biography
RICKY MARTIN
www.rickymartinmusic.com and www.rickymartinfoundation.org
Both a GRAMMY and Multiple LATIN GRAMMY winner, Ricky Martin is the leading Latin Music figure of his generation - beloved by fans worldwide for his instinctive understanding of rhythm, passion for performing, and equal compassion for giving.
Already accustomed to the spotlight from the five years he spent in Menudo, Ricky Martin set-off on his own musical path with the 1991 release of his self-titled debut solo album. With his first two albums quickly establishing Martin as a superstar throughout the Spanish-speaking world, it did not take long before his magnetic performance ability began to entice audiences well-beyond the era's perceived limitations for a Latin music artist. With the continuously escalating success of landmark singles such as 1995's "Maria" and his globally embraced 1998 World Cup Anthem La Copa de la Vida ("The Cup of Life"), Martin vaulted to the level of bona fide global superstar and the natural performer to lead an oncoming cultural revolution.
In a definitive example of stealing the show, Ricky Martin burst in the consciousness of American music fans with a historic performance of "The Cup of Life" at the 41st Annual GRAMMY Awards on the evening of February 24, 1999. The New York Times said the famed GRAMMY moment "put a match to the tinder of the pop-music world" and instantly established Martin as "the symbol of Latin culture's new mainstream status in the United States."
Declared "an international pop icon and Latin Music's Global Ambassador" by Billboard and recognized by the Latin Recording Academy as it's youngest-ever "Person of the Year" honoree, Ricky Martin has now sold over 60 million albums and continues to perform to sold-out stadium and arena audiences throughout the world. Martin has been the recipient of dozens of prestigious international awards saluting both his career achievements and far-reaching philanthropic efforts.
As essential a part of his persona as his love of music, Martin is equally dedicated to extensive charitable work through the programs of the Ricky Martin Foundation - which advocates for the well being of children around the globe in critical areas such as social justice, education and health. Martin's many efforts in this area have included speaking engagements before Congress and other world policy gatherings on the horrors of child trafficking, acting as a global ambassador for UNICEF, work with Bill Gates and Microsoft on the development of an online safety program for children in Latin America and personal visits to several international shelters for trafficked children. Recently, The RMF has also deepened Martin's long-standing support of Habitat for Humanity by becoming a principal partner in their rebuilding efforts following the devastating earthquakes in Haiti and Chile.
Having taken the last two and a half years off from the music industry in order to devote time to raising his twin sons Matteo and Valentino, Ricky Martin is once again returning to his natural place in the artistic spotlight, now with an even deeper understanding of his personal and musical journey. After recently making his debut on the New York Times Bestseller list with the release of his highly-praised autobiography "ME," Ricky Martin's eagerly-awaited twelfth album is set for release in February of 2011. Soon after, Martin will once again take to the stage of arenas and stadiums with an extensive world tour set to run through the year.
(Full Album Chronology Follows Below)
- more-
Ricky Martin Discography
Since his earliest days as a performer, Ricky Martin has always known that in order to have an enduring career, his musical evolution must never end. That is why he has honed his creative spirit by exploring the diversity of Latin music genres. Knowing that music has no boundaries has fed his artistic growth and inspired his voice to become a vehicle of diverse expression. With perseverance and hard work over the course of a two decade career, Martin has become one of the world's top- solo artists, having sold more than 60 million albums.
"Ricky Martin"
In 1991, Martin unveiled his self-titled first album Ricky Martin. With hits such as "El Amor de Mi Vida," "Fuego Contra Fuego" and "Dime Que Me Quieres" capturing the attention of critics and fans, it is the first taste of Martin's music with traces of global character.
"Me Amarás"
It was with that global vision and the hand of the famous producer, Juan Carlos Calderón that Martin recorded his second album Me Amarás. Boasting the hits "Entre el Amor y los Halagos," "Que Día es Hoy" and the title track "Me Amarás," Martin completed his second extensive tour of Latin America in support of the album.
"A Medio Vivir"
In 1995, Martin joined forces with the songwriter/composer Robi Draco Rosa and producer K.C. Porter to create his third album: A Medio Vivir. The hit single "María" and the ballads "Te Extraño, Te Olvido, Te Amo," "Fuego de Noche, Nieve de Día" and "Volverás" have now became repertoire favorites for Martin. Without question, this is the album that laid the groundwork for Martin's fast-approaching international superstardom. It was also at this time in his career that Martin took to Broadway, playing "Marius" in the beloved show "Le Miserables." Martin's run in the production was met with eleven weeks of sold-out houses and critical praises for his performance.
"Vuelve"
In 1998 Marin returned with his fourth album Vuelve. It was with this effort that Martin was catapulted to the forefront of international world pop music, as the single "La Copa de la Vida" ("The Cup of Life") became the theme for the 1998 World Cup in France and quickly reached #1 on the charts in more then 60 countries across the globe. Millions of fans also embraced additional famed tracks as "Perdido Sin Ti," "La Bomba" and the title track "Vuelve".
"Ricky Martin" (first English Album)
Following the path established by Vuelve and his-post GRAMMY reception, Martin released his first English album in 1999 with the again self-titled Ricky Martin. The world-wide hit "Livin' La vida Loca" redefined global pop music success and spearheaded album sales of over 17 million copies. Martin again reached out to fans directly with a groundbreaking tour performing 250 concerts in 80 cities across 35 global countries.
"Sound Loaded"
For his second English album, Martin worked once again with producer Desmond Child and once again delivered multi-platinum success. Released in 2000, the singles "She Bangs," "Nobody Wants to be Lonely" with Christina Aguilera and "Loaded" became worldwide hits.
"Almas del Silencio"
In 2003, showing loyalty to his Spanish language fan base, Martin releases Almas del Silencio - a production on which he worked with a wide-range of friends, composers, and musicians to pay tribute to the richness of Latin music. The album reached #1 on the Billboard charts and produced the hits "Tal Vez," "Jaleo" and "Todo Queda en Nada".
"Life"
With the production of Life in 2005, Martin explores his interests in spiritual richness and international travels. With elements of Middle Eastern music, African sounds to the emergence of Latin Urban and Reggaeton, Martin delivers an album that the press says is brimming with "confidence and musical diversity". Supporting new hits such as "Drop it On Me," "I Don't Care" and "It's Alright," the "Una Noche con Ricky Martin" tour performs to capacity audiences through Latin America, Europe, The Middle East, and United States.
"Ricky Martin: MTV Unplugged"
In the fall of 2006, Martin released his long-awaited unplugged album. Recorded in the traditional acoustic format of the iconic MTV series, Ricky Martin: MTV Unplugged boasted lush orchestration and arrangements, while still capturing Martin's entrancing performance energy. With the stripped down production and new arrangements applied to many of Martin's famed hits and select new songs highlighting his proud Puerto Rican Roots, the Unplugged record quickly managed to top both yearly album and singles sales of Latin music at iTunes, as Ricky Martin: MTV Unplugged was "the most downloaded album" at iTunes Latino, while chart-topping single "Tu Recuerdo" was the year's "most downloaded track". A year later, Martin's musical peers heralded his new musical chapter by bestowing both the album and single with Latin Grammy Awards.
"Ricky Martin Live – Black & White Tour" CD/DVD
Released in November of 2007, the Ricky Martin Live – Black & White Tour" CD/DVD was recorded/filmed during Ricky's record-setting SIX night run at the Jose Miguel Agrelot Coliseum in Puerto Rico and captures Martin in peak performance form during his critically-praised year-long tour. With Martin reaching #1 on Billboard's "Boxscore" chart of the industry's top drawing concerts, as he filled stadiums and arenas around the world, this special live release demonstrates why the Miami Herald raved that: "at a sold-out arena [Martin] showed he's deepened and solidified his artistry… he puts on a hellaciously good show" and the Chicago Sun-Times echoed: "[Ricky Martin] remains a natural showman… Martin came out at mach speed and rarely let up on the furious tempo"
"17"
In November of 2008, Sony Music released the special "17" CD and DVD collection – 17 songs and 17 videos representing the 17 years of hits. The included tracks, selected by Ricky himself, are fan favorites from throughout his career.
Additional Accomplishments
In his two decade career, Ricky Martin has received numerous international awards, including the prestigious "Person of the Year" recognition from the Latin Recording Academy for both his artistic excellence and extensive philanthropic work. A sampling of his other awards include: a "Star" on the Hollywood Walk of Fame, a GRAMMY and THREE LATIN GRAMMY awards, MTV Asia Awards, the MTV European Music Award, a World Music Award, an American Music Award, and multiple Premio Lo Nuestro, Latin Billboard, Premios Alma and Blockbuster Awards, among others.
Humanitarian Work
Convinced that being both a musician and a humanitarian have made him stronger, Ricky Martin continues his extensive work as a philanthropist. His most passionate agenda is to bring justice, education, and protection to children around the World. Spearheading this fight for children's rights is the artist's personal foundation – The Ricky Martin Foundation.
For more information, please visit both
www.rickymartinmusic.com and www.rickymartinfoundation.org